December, 2017
now browsing by month
RESEARCH & INQUIRY
Research & Inquiry, Graphic Organizers to help students do a Research or Inquiry Project for ANY Subject, Grade 5-10, by Addie Williams (TpT)
Scholastic, Teaching Students to Conduct Short Research Projects, by Ryan K. Gilpin (book)
BOOKS
KID FRIENDLY WEB SITES
It is pretty early days but the ball is definitely rolling.  The kids have all chosen partners and broad topics (e.g. marine studies, plants and their uses, local animals, sustainable energy, etc.) for their projects.  They are very excited to get started!  My biggest struggle right now is holding them back and helping them pair down some of their grand ideas.  We are working on pre-planning and setting achievable goals. To help with this, I have created a slideshow to guide topic choices, product choices; it also identifies criteria, questions to think over and expectations.  The kids are being good sports about going through this process, but I can tell they can't wait until I let them loose.  I have given them some freedom to start working and researching which has been useful in helping them figure out where they need to spend more time planning.  Some of the questions they have to consider as they design their projects are:
Why have you chosen this topic?
What do you want others to learn from your project?
How are you going to present your information/project?
How does you project connect to Coast Salish culture and ways of being?
Who can you speak to or interview to get some expert information on your topic?
Does the topic of your project have any problems that need to be solved or face any threats?
If so, what are some solutions or changes that we can make?
Our next steps will include team meetings to fine tune their projects and to work on creating a step by step plan that divides up responsibilities between team members. I have planning guides with checklists, criteria, ideas and suggestions for each team.  I am happy to share these if anyone is interested in seeing them.
The iPads and Apple Pencils are huge hits!  I have a few kids testing out some of the possible apps the class will be using to create projects.  These "student experts" will share their tech knowledge with the rest of the class in combination with some mini lessons I plan and present.
Now that I know all the topic choices, I am on the look out for free and cheap resources and materials.  We have enough to keep us busy for awhile, but if anyone knows of some good second hand books sites or places to buy building materials for solar projects, etc. please let me know. I will add any I find to my resources section.
In the new year, the plan is to starting connecting students with experts.  I'm pretty excited to see who they would like to contact to interview and what types of questions they come up with.
That's it for now.  Happy Holidays everyone!
Lisa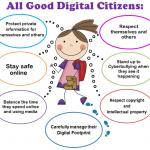 Since our students will be using technology regularly throughout their school careers and beyond, it is so important that we teach them how to be responsible members of the digital world. During our first meeting, we touched on a number of digital citizenship focuses. In our class, we discuss the importance on being safe online. We talk about the fact that the things we post can be very permanent and that our personal information should be kept private. I encourage parents to be aware of what their children are doing online and to keep track of websites the are registered on and how they are using their email accounts. Our students are registered with Google Apps for Education which requires that each student have an email account. Although I instruct students to use this account only for school based activities, they realistically can use this email account to sign up for anything they like. This is a bit terrifying as kids are so digitally smart when it comes to these types of things. I provide parents/guardians with email accounts and passwords.
We also talk about keeping all posts age appropriate and never using other's photos, content or informations without permission.
Since we use technology regularly for research, kids need to know how to recognize the credibility of sources. We discuss who is providing the information and for what purpose when trying to decide is a source is "good". This article has some great information:
http://www.educationworld.com/a_tech/responsible-student-technology-use.shtml
One of our responsibilities as educators in the tech age is to keep our students digitally aware and safe. Districts take steps to protect identities and we do our best to work with our kids to use their critical thinking skills when using technology.